奥の松酒造
Okunomatsu Brewery
BREWERY | 奥の松酒造
Okunomatsu Brewery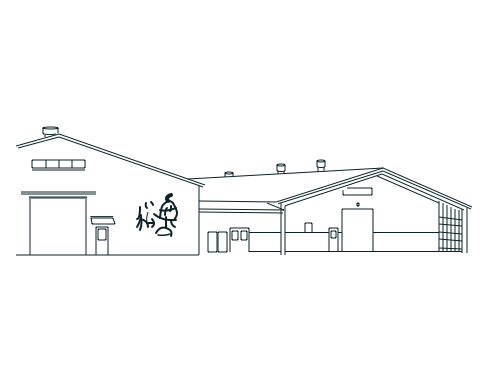 Okunomatsu Sake Brewery was founded at the beginning of the Edo period (1603–1868). They began as rapeseed oil merchants and by 1716, they were also producing miso, soy sauce, and of course, sake. Since then the spirit of their founder and his pursuit of high-quality sake brewing has been passed on generation to generation. Not only are they known for the quality of their sakes, but also their attention they give to packaging design, resulting in unique bottles. The company name Okunomatsu is a portmanteau of the Japanese words, "Okushu," meaning "Northern Country" (which is what the Fukushima region was called in the feudal era) and its town name, "Nihonmatsu," which means "two pine trees," resulting in Okunomatsu, or Deep Pines.
Flagship Product
Okunomatsu Ginjo
Location
Fukushima Prefecture
Fukushima Prefecture, located in the Tohoku region of mainland Honshu, is known for everything Japan is famous for: hot springs, cherry blossoms, beautiful snow-capped mountains, and sake. Fostering unique traditions of food and culture, the fertile lands of Fukushima produce some of Japan's best fruits and sake. Okunomatsu is located in Nihonmatsu City, an idyllic town at the foot of Mt. Adatara.
Head Brewer - Toji
Keiichi Tonokawa
Originally born into a shochu brewing family in Nagasaki, after graduating from Tokyo University of Agriculture, Tonokawa began apprenticing by chance in Fukushima due to connections his university professor had. He continued on to marry a Fukushima woman, and he is now firmly rooted in Fukushima. With a 40-year history of sake brewing and 16 years of experience as Toji, his motto is brewing sake that anyone would like and no one would get tired of, along with perfectly balanced flavor and aroma. His sake has won 17 times at the Annual Japan Sake Awards run by the National Institute of Brewing, the most wins by any Toji in Japan.
Recommendation
Favorite
Notable
Awards & Accolades
- Monde Selection Gold 2020
- Winner in the Sake Division of the International Wine Challenge
- 17-time winner of the Annual Japan Sake Awards
Our Mission
I simply want to make delicious sake in a thoughtful, intentional way. The secret weapon is the fact that Japanese sake, including Fukushima sake, is so incredily rich in its variety. Not just among different prefectures, but even between Nihonmatsu and Aizu, (which is just a lake apart), there are differences in the sakes. The uniqueness of Okunomatsu sake will give us impetus to introduce us to new drinkers.
Quality
Water and Rice
The Yachiyogura brewery covers almost 40,000 square meters. Cool in the summer and quite cold in the winter, it is an ideal environment for brewing and storing sake. Another key factor to the brewery is the spring water they get from Mt. Adatara. The snow of Mt. Adatara melts, sinks deep into the earth, and takes 40 years to trickle down, where it becomes an incredible, pure, clear, water source. High in minerals, it is truly the ideal water for sake.
Soft Water
Akita-Komachi